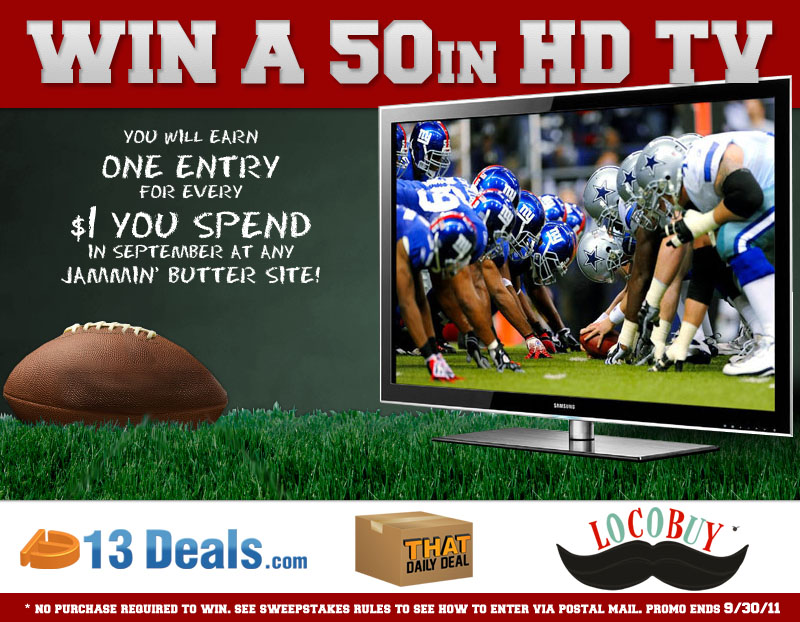 Official Sweepstakes Rules
No purchase required to enter or win the prize. Must be 18 years old or older to win. To enter, you may mail a stamped postcard with your First and Last Name, Home Address, Email Address, and Phone Number to Jammin' Butter LLC, RE: Promotions, 168 Roweland Drive, Johnson City, TN 37601, or after the first and subsequent purchases on any of the Jammin' Butter family of sites, your entry will automatically be added for every dollar you spend. Jammin' Butter LLC owns and operates 13Deals.com, ThatDailyDeal.com, and Locobuy.com.
Sweepstakes period starts 9/8/11 and ends on 9/30/11. One RANDOM winner will be chosen to win the 50" FlatScreen TV prize. Winner will be announced on JamminButter.com, and will also be contacted within (1) one week after sweepstake ends.
Jammin' Butter or its family of websites or its affiliates and partners are not responsible for incorrect information ie: email addresses, home addresses, name, etc. We are also not responsible for any problems with your entry, including technical failures related to computer, telephone, cable, and unavailable network or server connections, or other failures related to hardware, software or virus, or incomplete, late or misdirected entries.
The prize is a 50inch television. If the specific prize becomes unavailable, Jammin' Butter reserves the right to substitute the prize with a comparable item of equal value. The winner will be notified before it ships.
Entries are non-transferable. You can review your entries by checking your account orders with each site between 9/8/11 and 9/30/11.
Acceptance of a prize constitutes the winner's consent to the use of his/her voice, name, likeness, biographical information and/or photograph by Sponsor for promotional or advertising purposes in connection with the Promotion, if necessary.
This sweepstake is void where prohibited by law. The contestants assume the total responsibility of knowing their local laws in regard to sweepstakes, contests and are subject to any local, state, national or international laws. Jammin' Butter, LLC, partners, affiliates, and owners accept no responsibility for making these individual legal determinations.
Jammin' Butter LLC, its properties or affiliates and partners reserves the right to disqualify any person tampering with the operation or conduct of the Promotion, including, without limitation, the entry process or the operation of the web site or otherwise violating these rules.
Sponsor reserves the right to cancel, terminate or modify the Promotion if it cannot be operated, conducted or completed as planned, for any reason.
This sweepstake is only available to persons ages 18 or older living in the 48 contiguous United States. Not available to Hawaii or Alaska.